P&DARCS Burley Field - Radio Frequency Testing
Due to some concerns raised by members, arising from a failsafe incident involving two model aircraft which had occurred at the club last year, the committee had agreed to allow for an internal investigation. It should be noted that this was an isolated case and there have not been any further repeats of this situation.

The radio testing was completed by Peter Cossins - Dip. Elec Eng. SMIREE (Ret), MIE Aust. (Ret) and Ray Cooper. Peter and Ray had recently performed radio frequency testing at the Mt Hollowback glider slope location near Ballarat, so it made perfect sense to approach them to conduct the frequency testing at our facility.

The flight testing was conducted over two sessions, with the first being on Wednesday 25th November and a subsequent test completed on Friday 4th December 2020.

Flight testing around the steel pilot safety fencing was satisfactory from all runways. The metal fencing on the Eastern runway is relatively low and the steel mesh grid is large enough to allow the propagation of 2.4 Ghz RF signals. All measurements made have led to a conclusion that it is very unlikely that the metal barriers will be a problem at P&DARCS.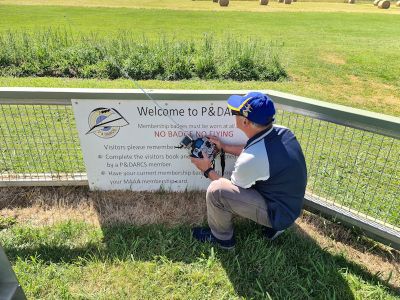 The incident that occurred in May 2020, has been deemed an isolated case, given there have been no further events of the same type and seems unlikely to be related to the "field" as such. When these incidents occur, it is important to document them and conduct follow up range and failsafe testing of the equipment and systems. IE Tx/Rx Brand model, firmware (if known), ESC BEC or separate Rx battery, Rx antenna location, etc.

The above reported incident also serves as a timely reminder to club members the importance of correctly setting the "failsafe" on their transmitter/receiver equipment. What is set in the workshop may not be satisfactory after the aircraft has been flown and re-trimmed. Not all aircraft are the same and may require a different strategy to enable the failsafe to be set correctly. For example, an electric powered glider should have the failsafe setup to: Motor off, Spoilers/Flaps deployed (if fitted), a gentle turn (to minimize a fly away).
The full report can be downloaded below.

Kind Regards,
Peter Cossins Dip. Elec Eng. SMIREE (Ret), MIE Aust. (Ret)


Files:
| | | | | |
| --- | --- | --- | --- | --- |
| Name | Created | Size | Downloads | |